Eastern Oregon Impact of ONE CASA Conference
September 23 @ 8:00 am

-

5:00 pm

$50.00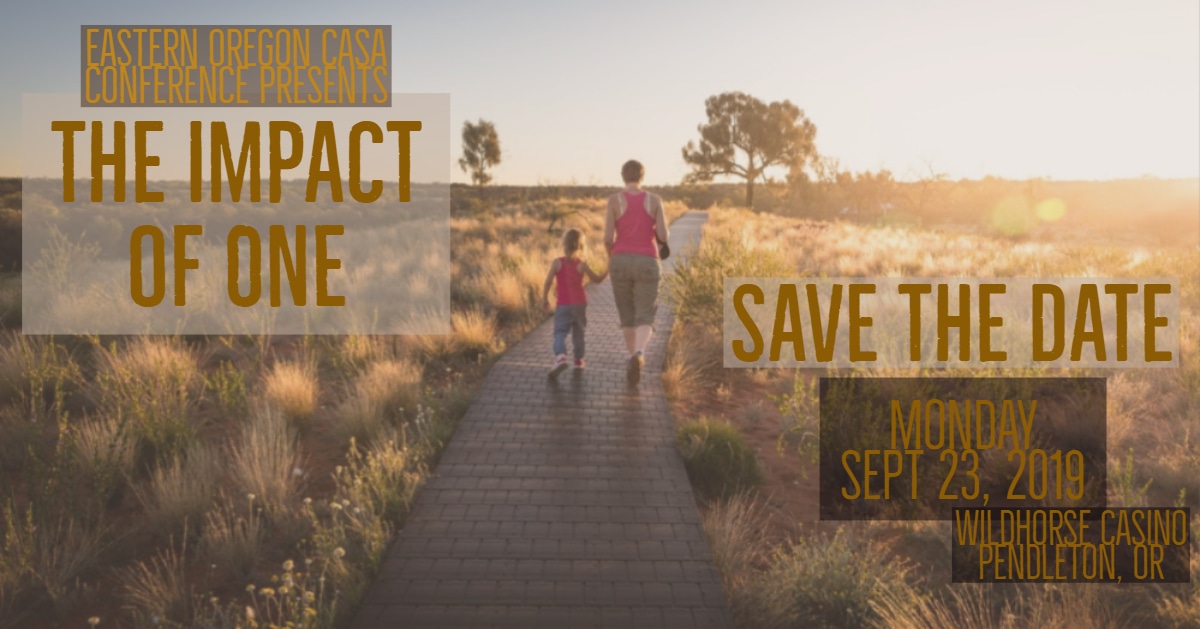 In 2017, CASA's from Oregon  were able to serve 4,661foster children! Court Appointed Special Advocates do so much for children in foster and many of them have powerful stories of the impact they have made upon a child's life. Unfortunately due to region isolation for many of our Advocates they don't have the opportunity to network and connect with other volunteers that are on a similar journey. To celebrate our diversity of communities and collaborate further, Oregon CASA programs have decided to organize an Oregon CASA Conference in Eastern Oregon called the Impact of ONE !  The CASA Conference will be held on Sept 23rd, 2019 in Pendleton OR at the Wildhorse Casino. In addition to collaborating and connecting with CASA's throughout Oregon, Advocates will be able to participate and experience inspiring speakers and workshops. Some of these presenters and workshops include:
Keynote: Multnomah County Circuit Judge Xiomara Torres,   Permanency Life of a CASE: Jason Wright, Murder, Missing and Indigenous, Women: Kola Thompson, Local Judges Panel, Local Young Adult Foster Panel, Navigating your Child's needs: Shannon Pegerude, Trauma and how it impacts foster youth:Bettina Schempf , Let's Talk About Race: Melissa Sampson.
A comprehensive workshop and schedule will be coming out soon.  Overall, we are excited and can't wait for the Impact of ONE CASA Conference to take place on Sept 23rd!